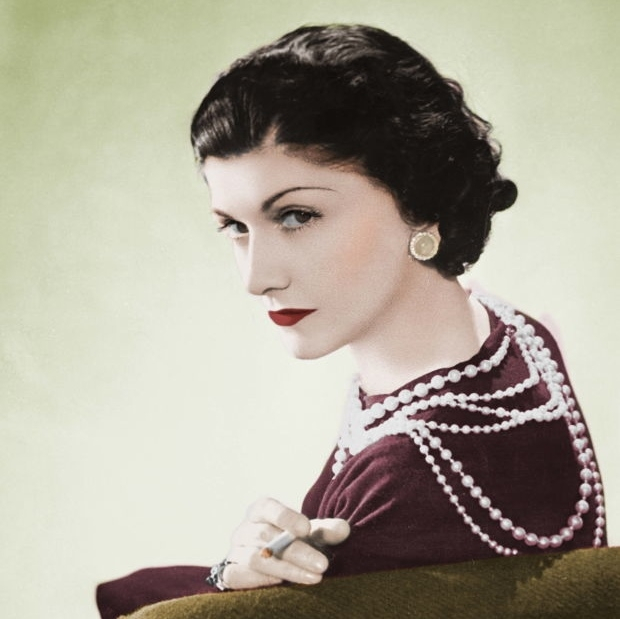 In honor of Coco Chanel Birthday. How the Legend was born.
In honor of Coco Chanel's Birthday, we take a look at here life facts that made her a legend.
COCO CHANEL may be famous for her incredible sense of style and amazing creations, but she also led one of fashion's most interesting lives.
1. What's in a Name?
Coco, born in 1883 in a hospice for the poor, was not Chanel's actual birth-name. Her given name was Gabrielle Bonheur Chanel,
but she acquired the sweet moniker during her appearances at a cafe that had a Moulin Rouge-flair.
As a young woman Chanel performed at this venue and sang two popular tune titled "Ko Ko Ri Ko" and "Qui qu'a vu Coco," both of which became her go-to songs.
It is also believed that the nickname could have also come from the French word cocotte, which means kept woman (at least that's the more polite sense of the word).
2. Young Fashionista.
At the tender age of 12, Chanel's father left her and her sisters in an orphanage after the passing of their mother.
It was at this convent that the nuns taught Chanel how to sew. She lived there for six years and mastered her craft.
Chanel was able to leave the convent at age 18, and after a couple of years, she returned to her hobby of sewing and began crafting her own hat designs.
 3. Always the Designer, Never the Bride.
Even though Chanel never married, she had a few prominent lovers that made a vital impression on her career.
The first was Etienne Balsan, a French socialite and polo player who helped her set up shop.
How convenient, right? It was at his bachelor pad that he allowed Chanel to open up her first hat boutique on the first floor.
And it was through Balsan that she would later meet her true financier and muse: Arthur Edward "Boy" Capel.
Capel, who was also a polo player, put up the funds for Chanel's first shops. She also became romantically involved with Hans Gunther von Dincklage, a German officer.
There were also rumors she had ties to Igor Stravinsky and was close to Pablo Picasso.
4. The Breakthrough.
What started simply as a hat boutique flourished into a full-fledged clothing store which catapulted Chanel into a real fashion designer and it all started with a jersey. Back in the 1920s, rich women wore ornate and expensive dresses made out of exotic fabrics. Countering that, the innovative designer created an outfit out of jersey material, which was a type of cloth that is used primarily for men's underwear.
She said she chose this material because of its low price and because it complemented a woman's body.
"I make fashion women can live in, breathe in, feel comfortable in and look younger in," Chanel said.
The rest is fashion history.
 5. Not a Hollywood Kind of Lady.
Chanel caught the attention of Hollywood moviemakers, specifically Samuel Goldwyn. The film producer offered Chanel a pretty substantial contract. All she had to do was fly to Hollywood twice a year and design costumes for starlets. It was then that she created looks for Gloria Swanson for the film Tonight or Never, while Greta Garbo and Marlene Dietrich became private clients. But Chanel wasn't all that pleased with Hollywood. She was quoted as saying that Hollywood was vulgar and "the capital of bad taste."
6. Controversial Affair.
In August of 2011 author Hal Vaughan released an explosive book titled Sleeping With the Enemy
in which he disclosed that Chanel had ties to the Nazi party. In his book he details extensively her affair with Gunther von Dincklage who was in the German military intelligence service and that she was extensively involvement with the Nazi party. Soon after the book was released the House of Chanel attempted to play down the controversy by stating: "What's certain is that she had a relationship with a German aristocrat during the War. Clearly not the best period to have a love story with a German." The statement also mentioned that "the fashion house also disputed that the designer was anti-Semitic," saying Chanel "would not have had Jewish friends or ties with the Rothschild family of financiers if she were."
7. The Comeback of the Queen.
In 1954, at the age of 71, Chanel returned to the world of fashion after her vocal distaste of the current trends, many of which were created by male designers such as Christian Dior and Cristobal Balenciaga. She was quoted as saying that their designs were "illogical" with "waist cinchers, padded bras, heavy skirts, and stiffened jackets."
Chanel was continuing to develop here own recognisable style. Although some critics disapproved of her new looks, the Brits and Americans loved them.
Some of her famous American clientele included Elizabeth Taylor, Jane Fonda, Jackie Kennedy, and Grace Kelly.
You can find Gabrielle Chanel legacy, vintage, modern and hard to get pieces on  vintage-united.com